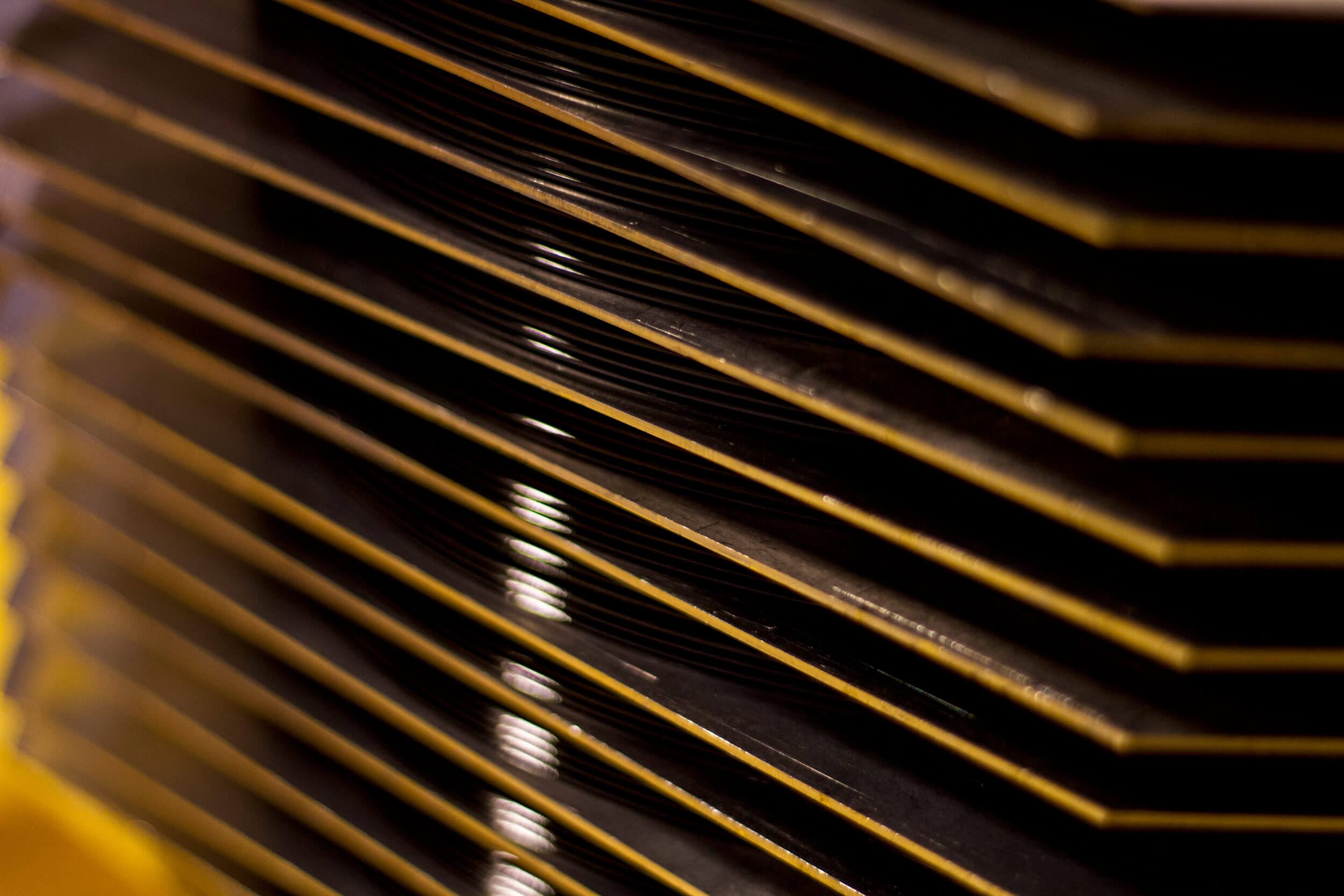 faq
Vinyl & Pressing
Once your mixes are finished, you'll need to get your audio mastered for vinyl. We recommend having your music mastered by an experienced engineer who is familiar with RIAA standards for vinyl mastering. Having your music mastered specifically for vinyl ensures that the high and low frequencies have been optimized for best performance on a record (imbalanced low frequencies or too much sibilance can diminish the quality of the record substantially).
Once your songs are mastered, two lacquers will be cut (A and B side). A lacquer is an aluminum disk covered in a soft material much like nail polish, which is cut on a lathe. Once cut, the lacquers are sprayed with liquid silver and then nickel plated to form stampers that are used to press the records. The stampers are then inserted into the press and the first test pressings are made to be reviewed by our audio QC team and then sent off to the artist/label/management for approval. Once you've approved the test pressings, your order will move to our production queue to be pressed.
During this time, you'll need to make sure you've got all your artwork ready to go and formatted per the appropriate template. Artwork can be a major bottleneck in the order process, and we encourage all customers to make sure they have all printed materials squared away as early on as possible so that we're able to get your order to you quickly.
Before getting your order on the floor for production, we'll send you test pressings for final approval. Before shipping your test pressings to you, they'll go through a process of audio quality control by our team. By default, we supply customers with 5 test pressings, with additional units available on request (at additional charge). Listening to multiple test pressings helps to ensure that the audio is consistent from record to record.
With 2 step plating, the lacquer is sprayed with a thin coat of silver, and then dipped in a bath of nickel, which adheres to the silver coating to form a stamper. A Mother is then made from the initial stamper, and from that mother, additional stampers are made. The downside of this process is that one mother can be used to create 10 sets of stampers before it degrades and becomes unusable. Once the Mother becomes unusable, you will need to recut additional lacquers to press additional quantities of the record, which is time consuming and accrues additional cost. We only recommend this option to customers on a budget who are looking to press smaller quantities of records (10,000 at the very most).
With 3 step plating, the lacquer is sprayed and put into the tank, but instead of creating a stamper, a Father plate is made. The Father plate is in turn put back into the tank to create a Mother, from which the stampers will then be made. This is the ideal plating process as it can be used to press larger quantities and you can make up to 10 Mothers from 1 Father without the need to recut lacquers. With 3 Step plating, you can press up to 100,000 records before needing to recut lacquers and have new plates made.
The RIAA has a published set of guidelines that we follow. The basic formula is the shorter the record, the louder the volume and the more bass that can be reproduced.
7": 3 minutes per side @ 45rpm / 6 minutes per side @ 33rpm
12": 16-18 minutes per side @ 33rpm / 9 minutes per side at 45rpm
Records that exceed the suggested length may have additional charges added as more time is spent trying to maximize the volume and low end.
While packaging & assembly will take place in our plant as the final step of your order, we ask that customers oversee their own printing. This means formatting your designs to our artwork templates and submitting to a printer of your choice. If you're not sure where to get your materials printed, we're happy to refer you to some great printers we work with on a regular basis. After having your packaging materials printed, you'll send them to us (or drop them off) and we'll assemble your components.
The minimum order quantity for all orders is 500. If you are ordering multiple vinyl colors, the minimum is 500 per color.
Current turnaround times can vary based on capacity, order quantity and complexity. Please contact tmporders@thirdmanrecords.com for more information.
Yes. If your music was mastered by an engineer who's experienced with mastering to RIAA standards for vinyl production, then your audio shouldn't need any additional EQ or compression (i.e., we won't be altering how your music sounds). If you choose to have your lacquers cut in-house as part of your order, our mastering engineers will simply take your finished masters and optimize them to work as well as possible on a vinyl record. This means determining how much space will go between the grooves, how deep the grooves will be, and how much volume you'll be able to get from your record based on the actual frequency content of your music. Think of lacquer cutting/mastering as the opposite of playing a record on your turntable; instead of physical vibrations being converted to electrical signals that are amplified and reproduced through your speakers, the electrical signals are turned into physical vibrations in the cutting head that are cut into the lacquer on the lathe. This is a physical process and it's very important that the audio is optimized by an experienced engineer so that the stylus will cut the lacquer properly for playback.
Yes! Please note that, if sending us stampers, they will need to be crimped and coined to the specs of our presses. If you wish to provide production metal from an electro-plater of your choice, please contact us prior to placing your order for required stamper specs.
Black vinyl is the standard and will always provide the highest fidelity. Because color vinyl has additives and custom color combinations are different vinyl stocks mixed together, the noise floor will be ever-so-slightly higher with color vinyl. That said, color vinyl still sounds great, not to mention being an attractive addition to your merch table.
We offer the option to receive reference lacquers before having your plates and stampers made. This just means our engineers will cut test lacquers (1 for each side of the record) and ship them to you for you to listen to and approve before having fresh lacquers cut and plated for production. This can help identify and isolate any audio issues that may need to be addressed before moving on the plating process.
No, we do not currently offer rush or expedited order processing.
No, we do not currently offer international shipping.
A matrix number is a string of letters and numbers used to identify your record. If you are signed to a label the matrix number should be part of their internal release schedule and you shouldn't have to worry about it, but if you are self-releasing your record, you will need to make one up. So let's say this is your first release and your band is called HIS NAME IS ALIVE, a good number may be HNIA-001. The matrix number will be etched into the run out groove of your lacquer after it has been cut. It will appear on the record itself after it has been pressed.
Jackets are the outermost cardboard packaging of the record, where the album art is printed. Sleeves go inside the jacket and are made of paper.
No. Third Man Pressing is a separate entity from the Third Man Records storefront, which only stocks Third Man releases.
Third Man Pressing does not sell records. However, you can visit the Third Man Records online store to browse and purchase Third Man titles that we've pressed. Additionally, the Third Man Records retail storefronts (located in Nashville, Detroit, and London) carry many Third Man releases that were pressed at TMP.
Yes, we will dropship orders to two addresses with no additional fee, and for every address over two, there will be a $25 fulfillment fee.
We are able to host your downloads, meaning that we will be responsible for storing the digital files. If you choose to have us host your downloads, then we will also print your download cards. If hosting elsewhere, the customer will be responsible for printing and supplying the download cards for insertion.
It's up to you! WAVs are high quality, lossless files, which give the listener the most accurate version of the audio. Because of this, the file size is very large and not ideal for portable streaming. MP3s are compressed, which makes them small files that load quickly. Though the MP3 format is lower fidelity than WAV, the difference in quality is hardly detectable to your average listener.
Licensing & Copyright
Before pressing, we test all source audio for copyright compliance. Please ensure that you have the rights to your audio and that any samples are properly cleared and licensed before submitting your order, or it will be be rejected. On our order form page, you will find our copyright compliance form, which must be signed and submitted before we will process your order.
You will need to obtain Master and/or Mechanical licenses for any samples in order for us to process your order. Licenses are obtained by contacting the owner of the recording as well the the publishing agency. For Master licenses, you will usually need to contact the record label, artist, production company, etc., and mechanical licenses can usually be obtained through Harry Fox Agency. If you aren't able to obtain mechanical licenses through the Harry Fox Agency, then you will need to contact the publishing company.
Since you are the artist making the recording of the cover song, you don't need to obtain a Master license for covers. You do, however, still need to obtain a mechanical license in order to ensure that royalties are properly paid to the owner of publishing.